Travel agency websites and SEO for Google in 2021
Travel agency business has desperately suffered due to the COVID-19 pandemic. The US Travel niche market evaluation demonstrated a stable travel expenses decrease of 48% in December 2020 compared to 2019 with the year loss of $500 billion. The graph below compares hotel occupancy between 2019 and 2020.
The graph source is www.ustravel.org/toolkit/covid-19-travel-industry-research
The situation improved in 2021 with the vaccination beginning especially. U.S. residents' surveys reveal a stable pandemic concerns decrease alongside with a travel interest prevailing.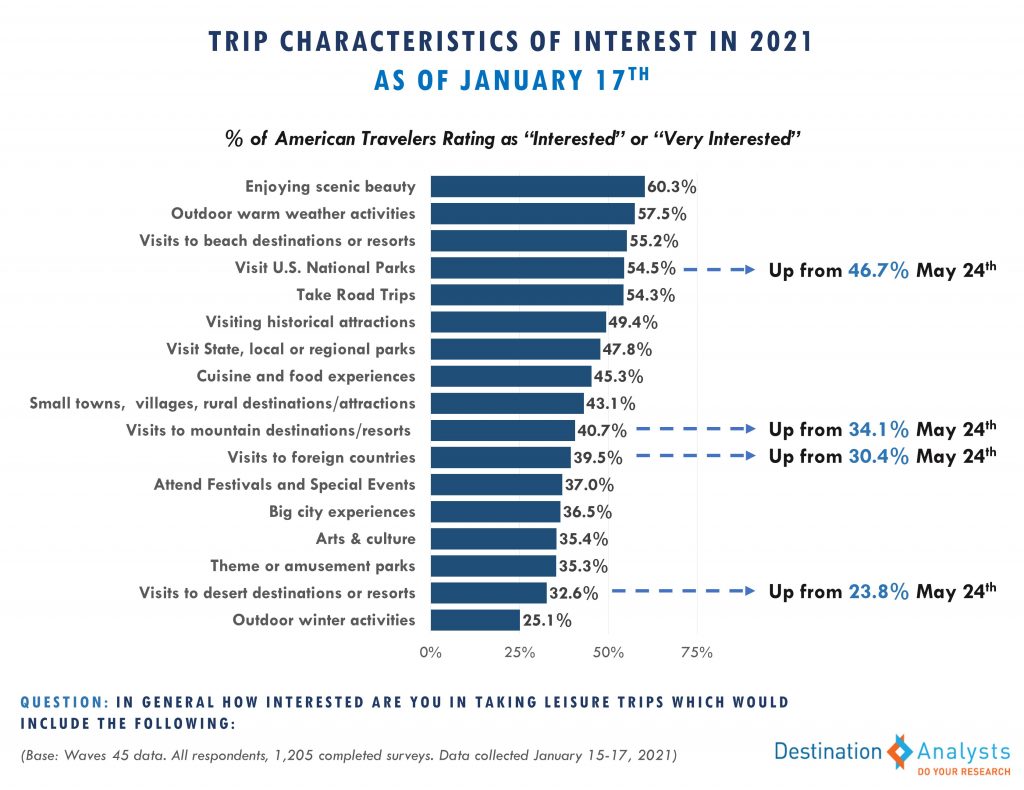 The graph source is www.destinationanalysts.com/blog-update-on-american-travel-in-the-period-of-coronavirus-week-of-january-18th/
Travel agencies SEO promotion methods in 2021
Almost a half of Google queries are locally intended. Therefore, it is recommended to focus on a travel agency website promotion locally. In 2020, since the air travel was banned, travel agencies switched to domestic tourism. For example, visitphilly.com launched a Regional marketing initiative (travel by car and around the nearby countryside) to attract tourists to Philadelphia.
To promote your website locally, e.g. in the U.S. or Canada, analyze the most profitable regions set in terms of demand. Consider not only a competitiveness rate, but also tourist services margins in an area.
Having a profound research done, plan your business for one season ahead at least. Afterwards only start developing your travel agency local SEO promotion.
It's highly recommended not trying to keep up with your competitors of the Google top search. Look for a niche market with a maximum margin in an area which is predicted to boom and bust.
Smartphones spread and people's desire for searching products and services locally result in some traffic flow through Google maps rather than organic Google search. Let's look at the search engine top results: the first four positions are taken by paid ads, and then comes the block.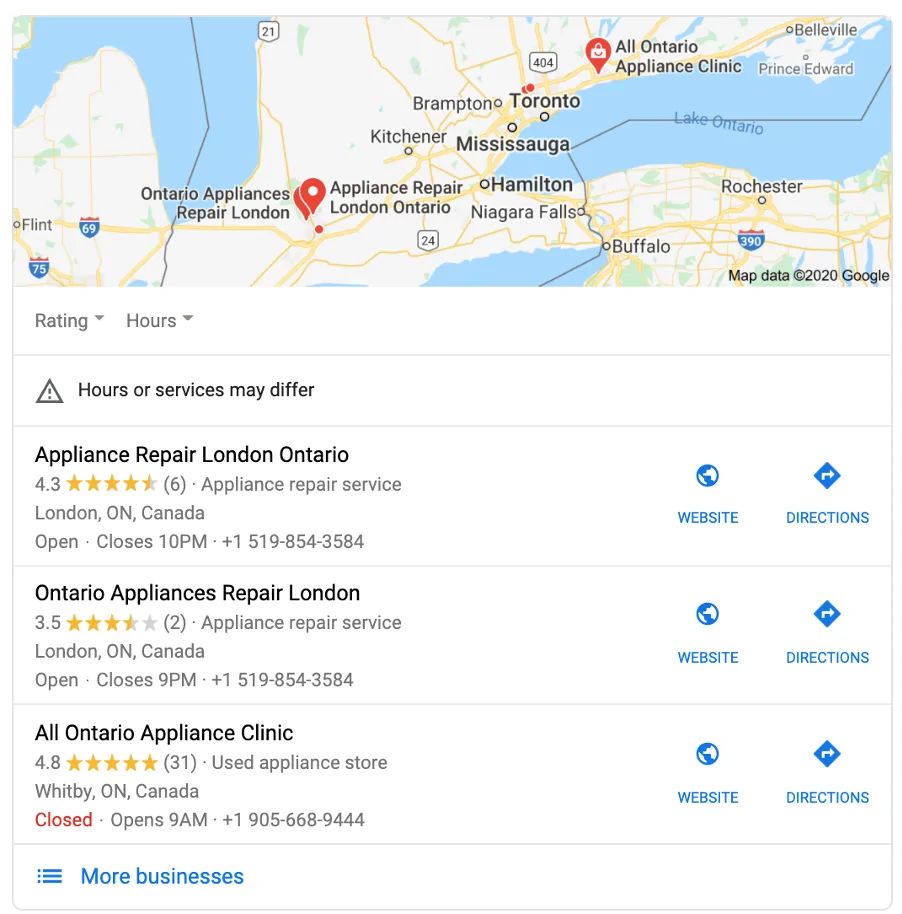 In April 2021 Google launched a new search results display design on Local Finder maps. Local Finder search queries are now merged with Google My Business (GMB) Insights ones. Meanwhile, Google maps searches are displayed separately, and an algorithm ranking is obviously different. Fill out Google My Business form accurately and indicate necessary company addresses on the maps. Additionally it's advised to keep track of the way your company information appears on Google maps, and separately in the Local Finder as search results tend to precipitously change there.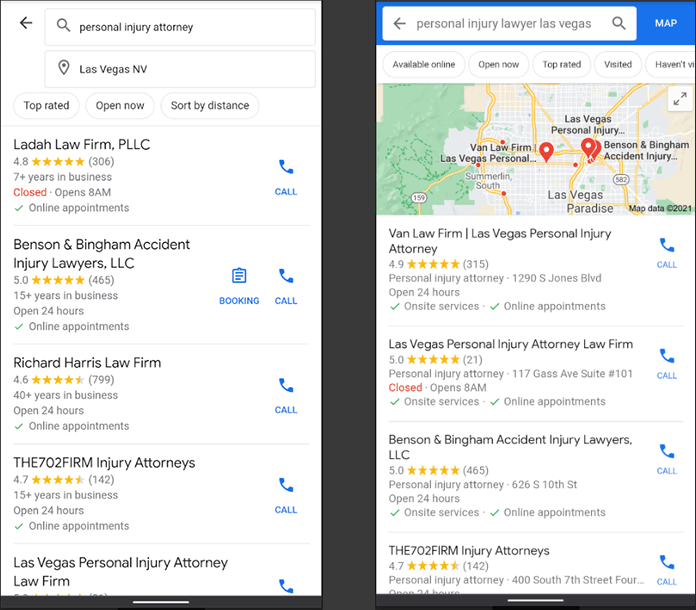 Thus, since 2020, filling local business data in the Google My Business profile has been of crucial importance. The top spot on Google Maps is now taken by companies with up-to-date contacts and working hours. So, you have to constantly monitor the maps reviews and respond promptly.
Use panoramas so that potential customers can clearly see your company office, hotel or the other map object. A virtual tour area link is a functionally convenient feature. It might be used, for example, for showing a tourist around resort sights.
How E-A-T impact travel agency websites
In 2013 Google published the document for assessors to outline the websites quality assessment criteria. E-A-T (expertise, authoritativeness, trustworthiness) factors impacted a ranking noticeably in 2018. For example, after Google's "Medic Update" algorithm introduction in August 2018, SEO for medical sites are to take E-A-T factors into account.
E-A-T factors have also slightly changed the ranking of services, goods or life-affecting content websites: they are called YMYL (your money or your life). Google's major Core Update in May and December 2020 affected varied subject sites ranking even more notably. In fact, Google's core Update is identical in importance to the Medic Update.
Google is fighting disinformation. Now E-A-T factors are to be taken into account by sites in a topics variety, whether it's travel and tourism, finance, healthcare, media or pets. The quote below is from How Google Fights Disinformation:
"For these "YMYL" pages, we assume that users expect us to operate with our strictest standards of trustworthiness and safety. As such, where our algorithms detect that a user's query relates to a "YMYL" topic, we will give more weight in our ranking systems to factors like our understanding of the authoritativeness, expertise, or trustworthiness of the pages we present in response"
Unlike medical topics, a travel agency website can quickly and easily be optimized for E-A-T factors. Read more about E-A-T factors in Google assessors instructions.
Here are some factors that are often overlooked, but these nuances are taken into account by Google's algorithms and its assessors.
Make proper Schema.org semantic markup for HTML5 with authors, citations, and FAQs: schema.org/citation, schema.org/reviewedBy, and schema.org/FAQPage. This will also allow for more space in the results page at the expense of the extended snippet. On smartphones, it sometimes covers the entire screen, which increases click-throughs from organic search: the clickability of a larger snippet is always higher.
An example of a similar FAQ snippet on a smartphone: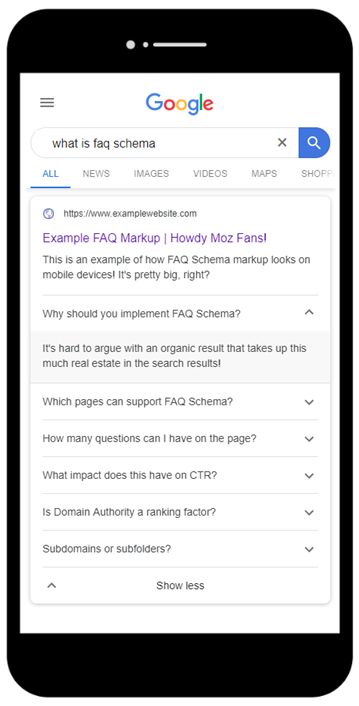 And an example from a Google search on PC:

People who are into traveling and tourism tend to be mobile at most, more likely to use gadgets and relatively slow mobile Internet. Pay attention to a travel agency site cross-browser performance, so that on any smartphone or tablet, in any browser all the site pages load equally correctly and quickly. A site speed in PageSpeed Insights should be close to the green zone when checking from around the world.
Carefully check the NAP (Name, Address, Phone Number) authenticity on a website. There might be a ranking of hotel addresses from different countries, regions, and cities on a travel agent's website. If they have changed phone numbers, it means the NAP data is out of date. Invalid NAP reduces the site ranking. Therefore, regularly check provided information relevance.
Use expert quotes and links to authoritative sources. Links to other sites are usually avoided. But if the link doesn't lead to a competitor's site, but to Wikipedia or a well-known media outlet, that's a good signal for Google.
Keep an eye on your site's online reputation as Google assessors are watching either. Conduct competent crowdsourcing marketing.
E-A-T factors are not a panacea, but without these factors organic traffic is more challenging to get.
Link building for travel agency websites
If we are focused on SEO promotion by region, it means that we have to get links from regional sites. Informational traffic prevails in the tourism industry. Links from Wikipedia and other official authoritative sites are also important for Google. Let's look at the links of the above-mentioned visitphilly.com.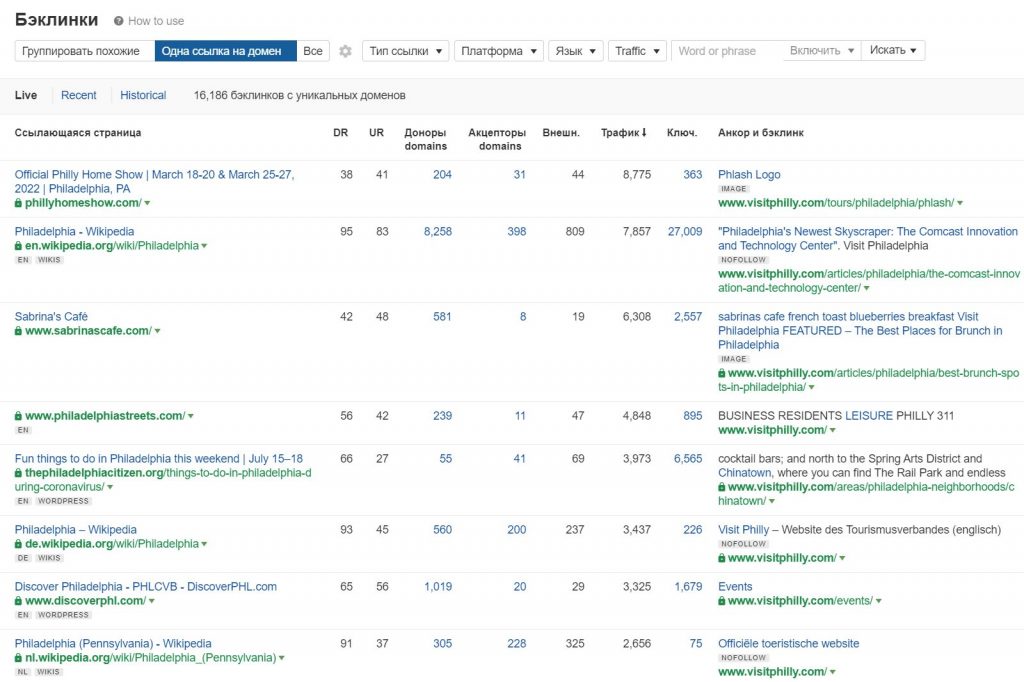 A quick top backlinks scan analysis shows that they were able to link from their site to the Wikipedia article about Philadelphia in several languages.
Thanks to reputable article link donors, including those from educational sites and state official ones, the organic output was almost unaffected. Site traffic dropped slightly in early 2020 because of the pandemic, but then stabilized and rose in early 2021.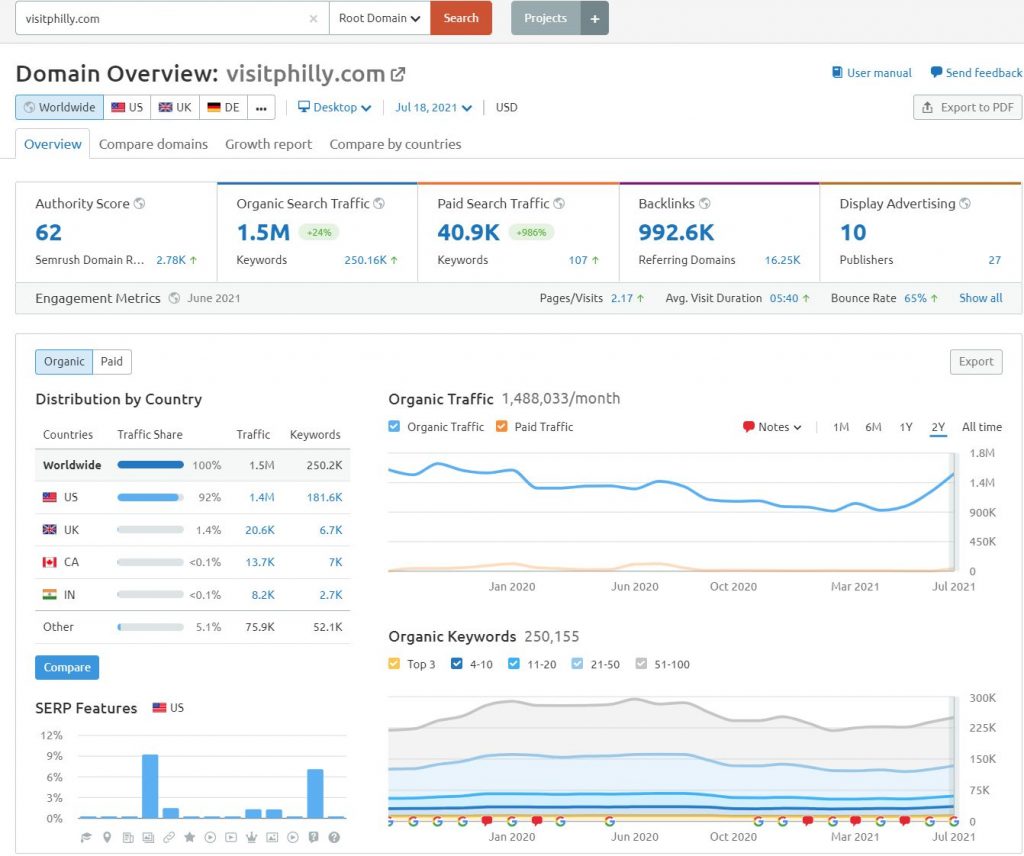 Conversely, sunwing.ca significantly lost traffic and organic rankings. There was no position recovery, as that with the other sites at the 2021 season start, because it has few links from authoritative sources (such as Wikipedia encyclopedias, official government and educational portals).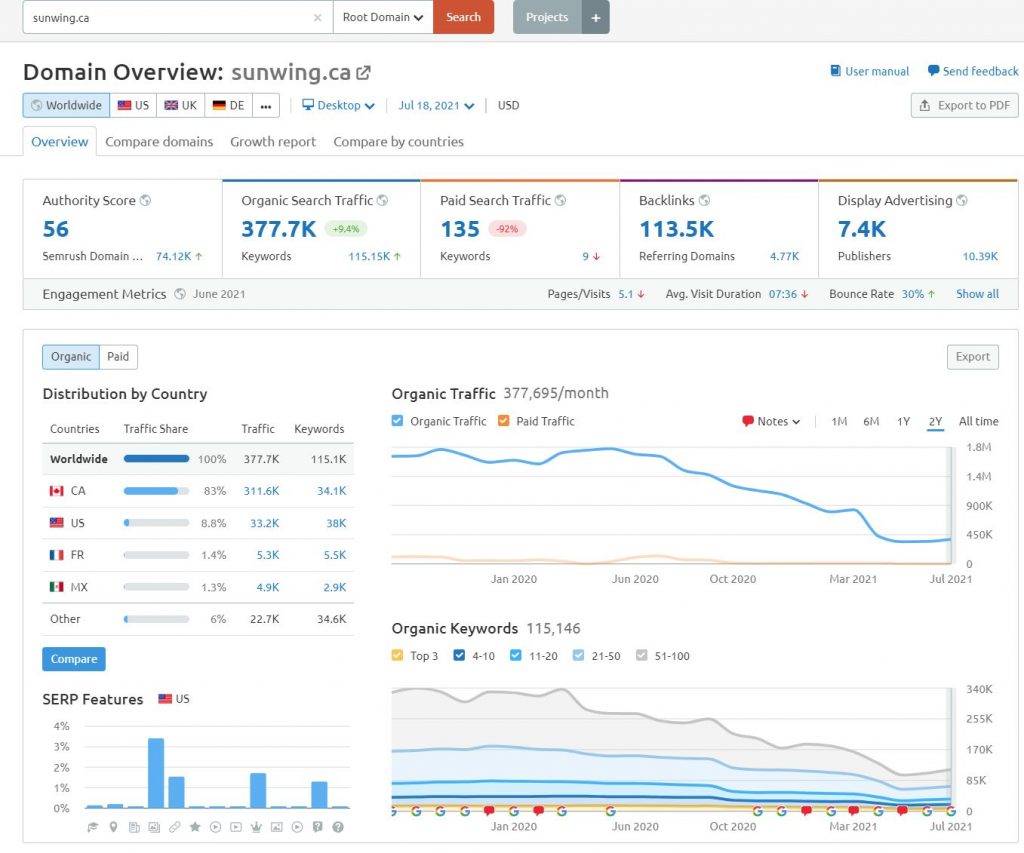 Additional redtag.ca example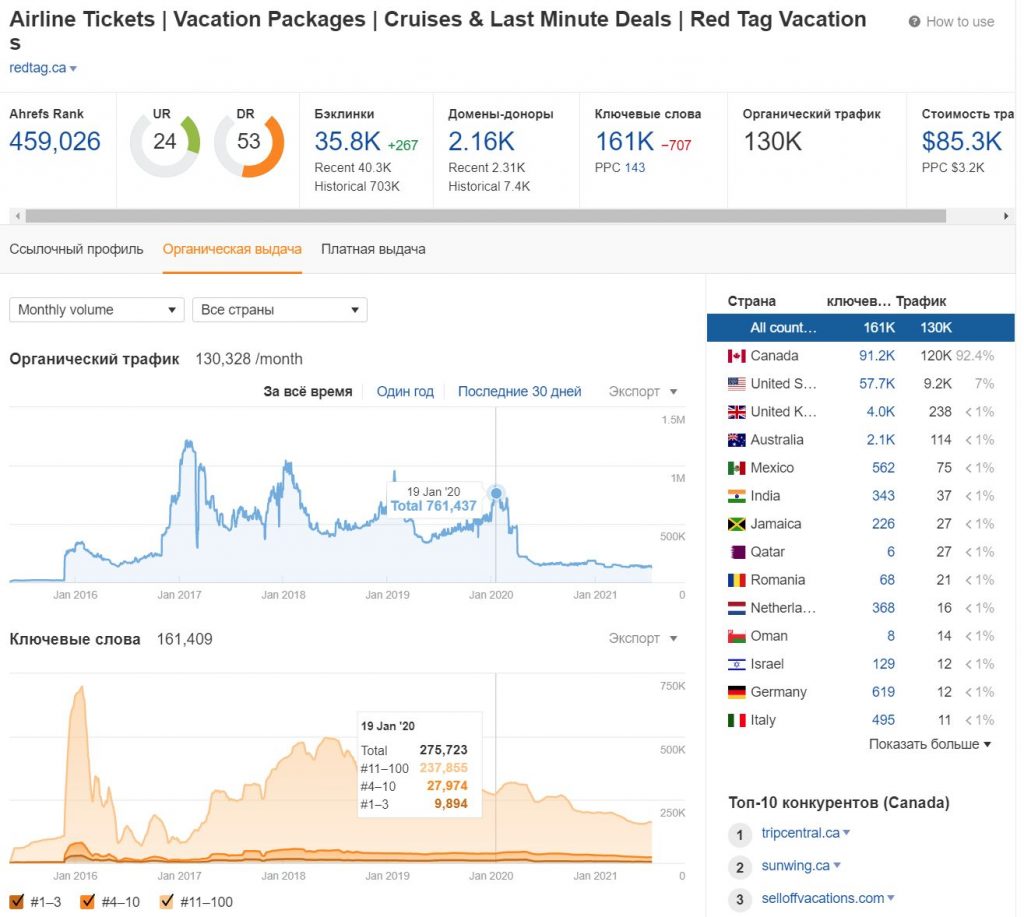 In the graph, we can see how much organic traffic drops because of the COVID-19 pandemic in 2020. The link profile also has few references from authoritative sources.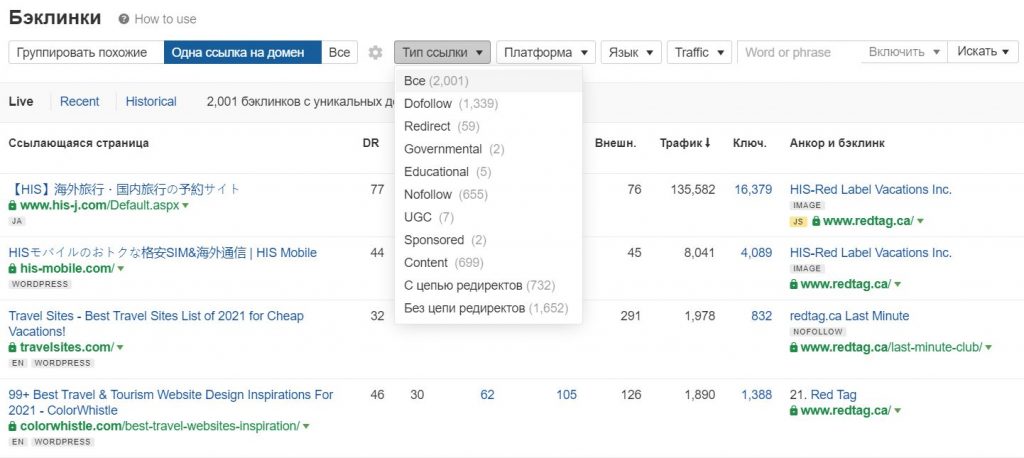 The other website example that lost a bit of position and traffic during the pandemic, goway.com.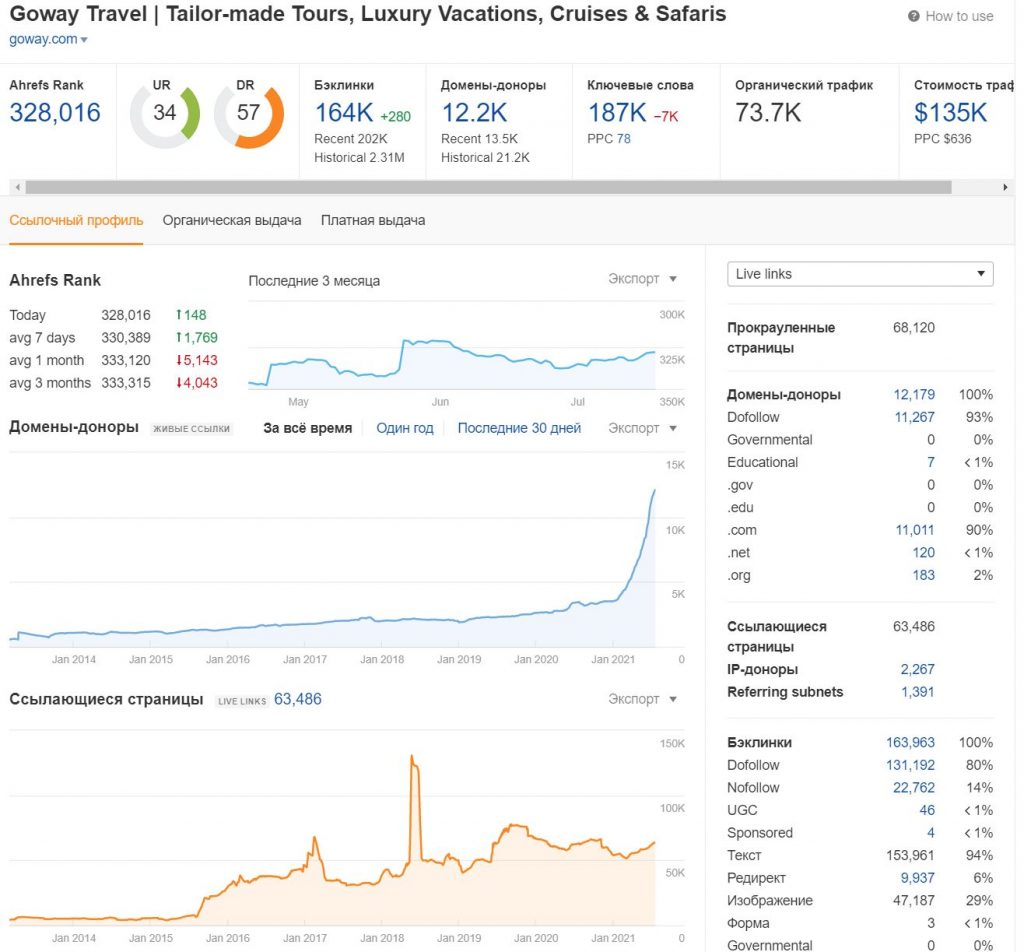 We observe travel agency sites traffic loss in 2020, when goway.com suffered as well. But the rapid links increase didn't notably improve the positions and traffic.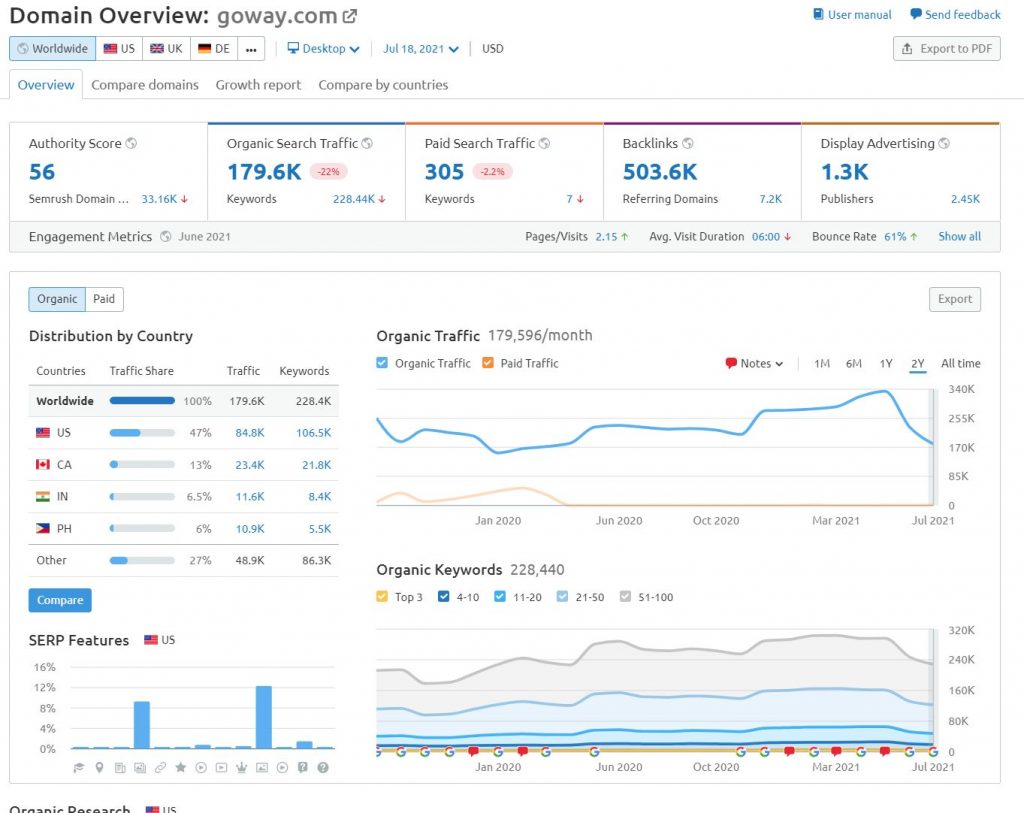 However, unlike sunwing.ca and redtag.ca, goway.com saw its traffic drop by half, not three times, during the pandemic. Undoubtedly, during a near worldwide lockdown and airline ban in many countries, travel traffic drops for all the sites. To understand why goway.com's decline is not as distinct, let's see its best link donors.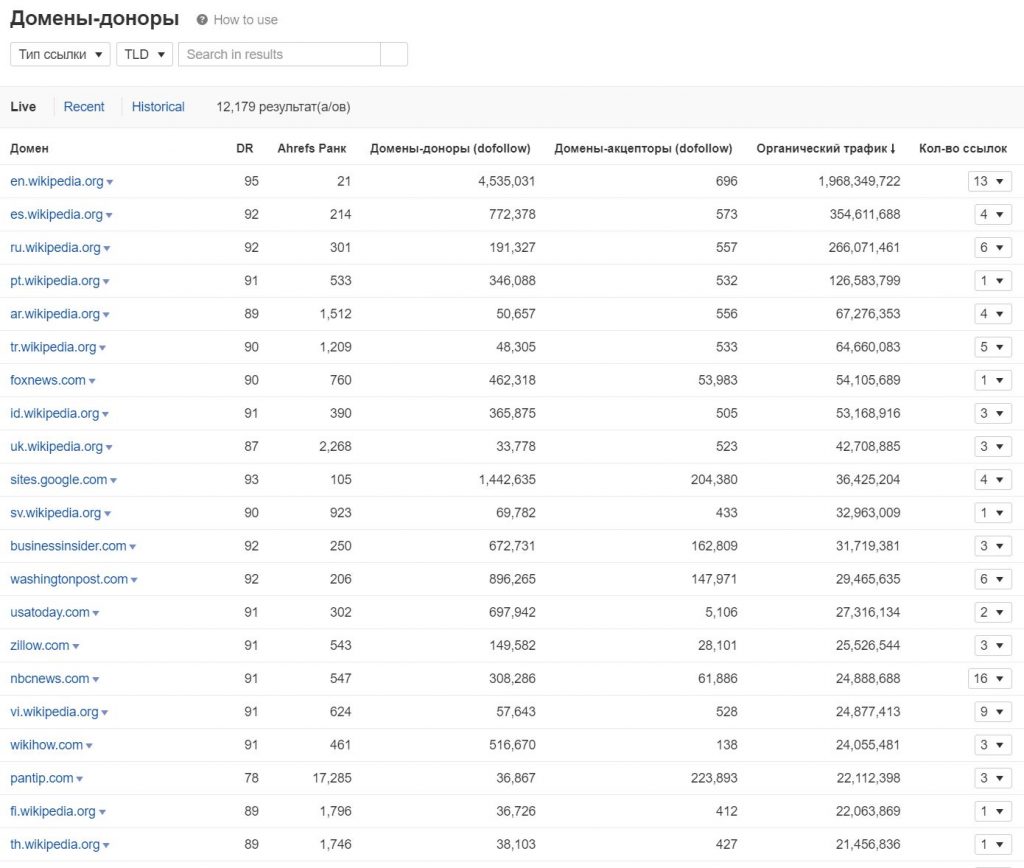 Again, links from Wikipedia in different languages, as well as links from Zillow.com, foxnews.com.
Consider the site that lost the least of organic traffic in 2020, gadventures.com
Its link profile also includes many sustainable donors: reddit.com, bbc.com, foxnews.com, forbes.com, medium.com and other world-renowned sites.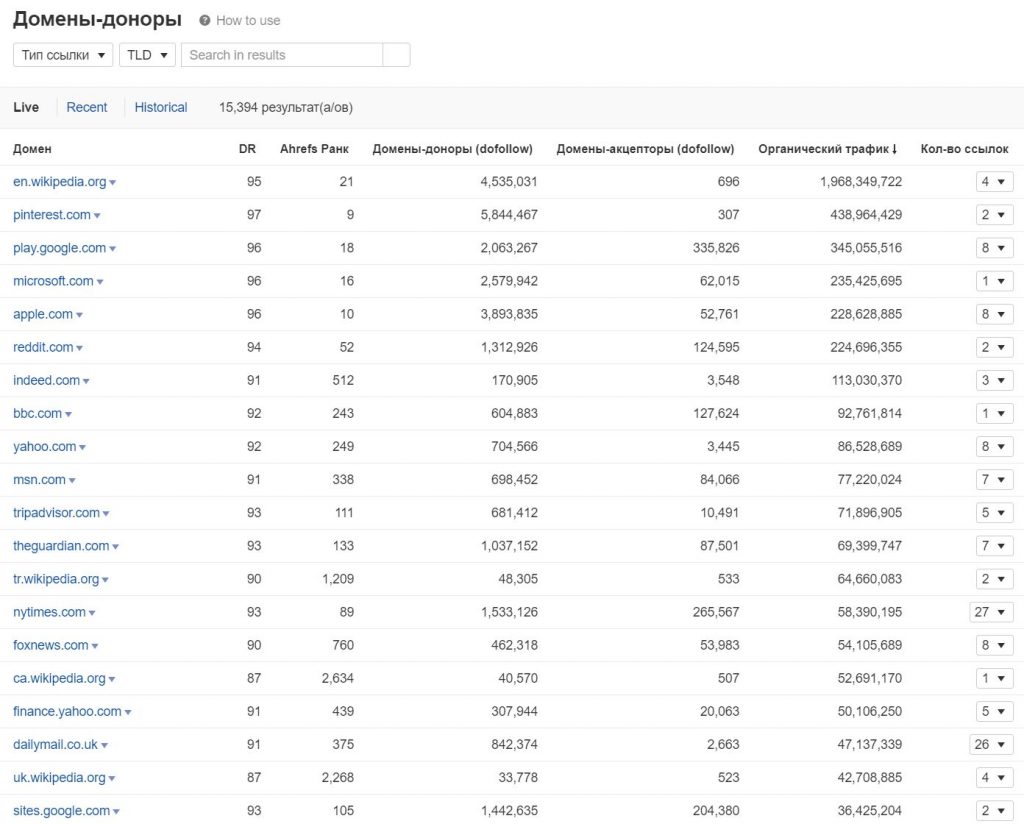 Consequently, after 2020, donors authority (well-known media, educational and scientific sites, encyclopedias) is extremely important for Google.
For local SEO promotion, the link-building strategy is a thematic authoritative donors selection, with their regionality consideration. Furthermore, we should regularly provoke brand mentions from bloggers and opinion leaders in a desired region, in regional media and carry out competent content marketing.
Get natural links not only through outreach.
Make more anchorless links.
Also choose long anchors: many tourists type long queries when searching, indicating personally preferred conditions.
If possible, organize festivals, events and contests for tourists. It is more preferable to hold joint events so that project partners can link to you. Don't avoid non-profit organizations. On the contrary, look for community and charitable local organizations to partner with. It's important to get good natural links. Sponsor travel bloggers so you can be linked to and trended, including on social media.
Use quality PBN satellites to get end-to-end links from the main pages as well.
Do not try to overtake your competitors in a links number to avoid being filtered. Find and occupy a regional niche market, search for high-quality business directories, aggregators (free and paid) and add information about the site in niche directories.
Publish articles with a link to the site in reputable specialized travel and tourism magazines.
SEO growth points
The more useful content, the more points of growth for getting into Google. You can create a variety of content on the topic of travel, and blog on social networks. To attract additional traffic, make a video blog for YouTube: videos frequently occupy the most visible part of a ranking search.
All of the above is Search Space Optimization (SSO), i.e. brand promotion through filling the search space on all the Internet resources where the target audience is searching for travel services information.
In terms of SEO site optimization, the following points of growth can be identified.
Proper internal relinking. Create content-hubs, that is, pages where a broad topic ranking is shown and with internal hyperlinks reference.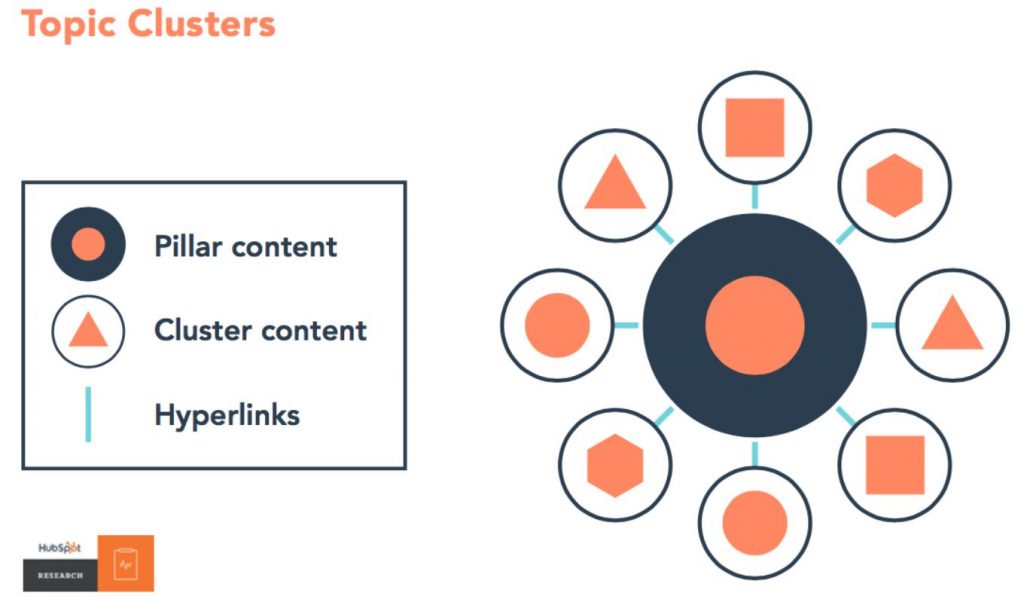 blog.hubspot.com/marketing/topic-clusters-seo
Get additional traffic to your site by creating additional pages about services, similar services, seasonal services, promotional services. It might be about the same service, but for each region, make a separate page for a specific region, city. It can also be exclusive services. Formulate their descriptions after studying the search prompts to understand what people are searching for in Google, specifying a particular service.
Since regional SEO gets results faster, create separate regional pages (preferably content hubs) about all the regions where you can provide a service. That is what they did, for example, at goway.com.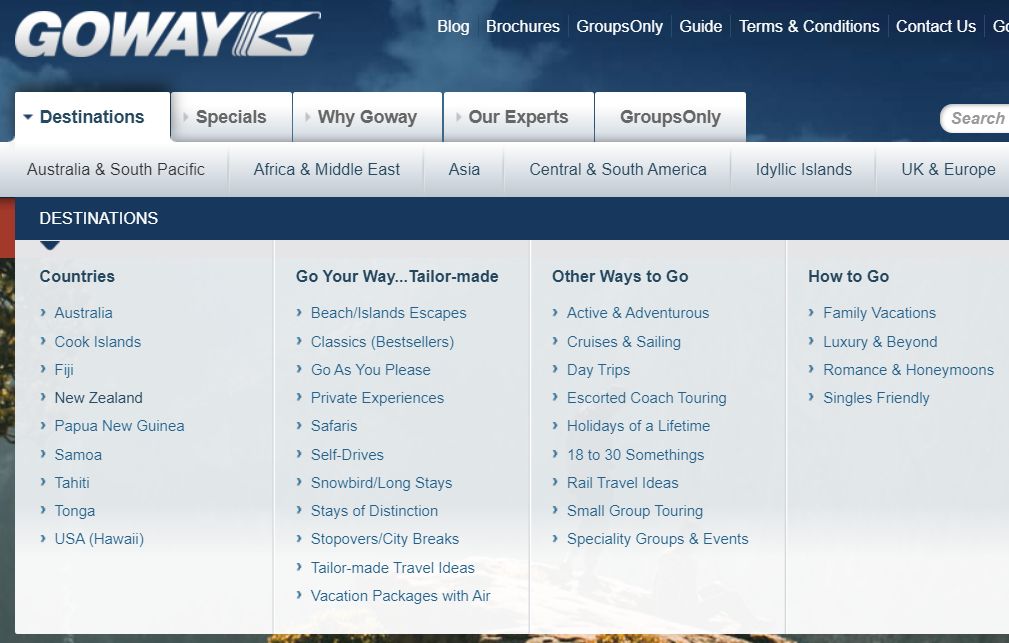 2021 SEO perspectives
A proper SEO promotion strategy normally has prospects, but annually the timing and budgets tend to increase. In 2021, in many areas it is difficult to get to the top for the queries that bring clients to the site. For example, in SEO for real estate there is almost no chance of reaching the top for popular commercial queries in the United States, even if you spend hundreds of thousands dollars.
The SEO budget directly depends on travel agency services profile and its regionality. But it is much easier for travel agency sites than for medical ones to do full-fledged optimization for E-A-T and to find authoritative link donors and experts (travelers, bloggers).
A proper SEO promotion plan should include the maximum possible capture of local results.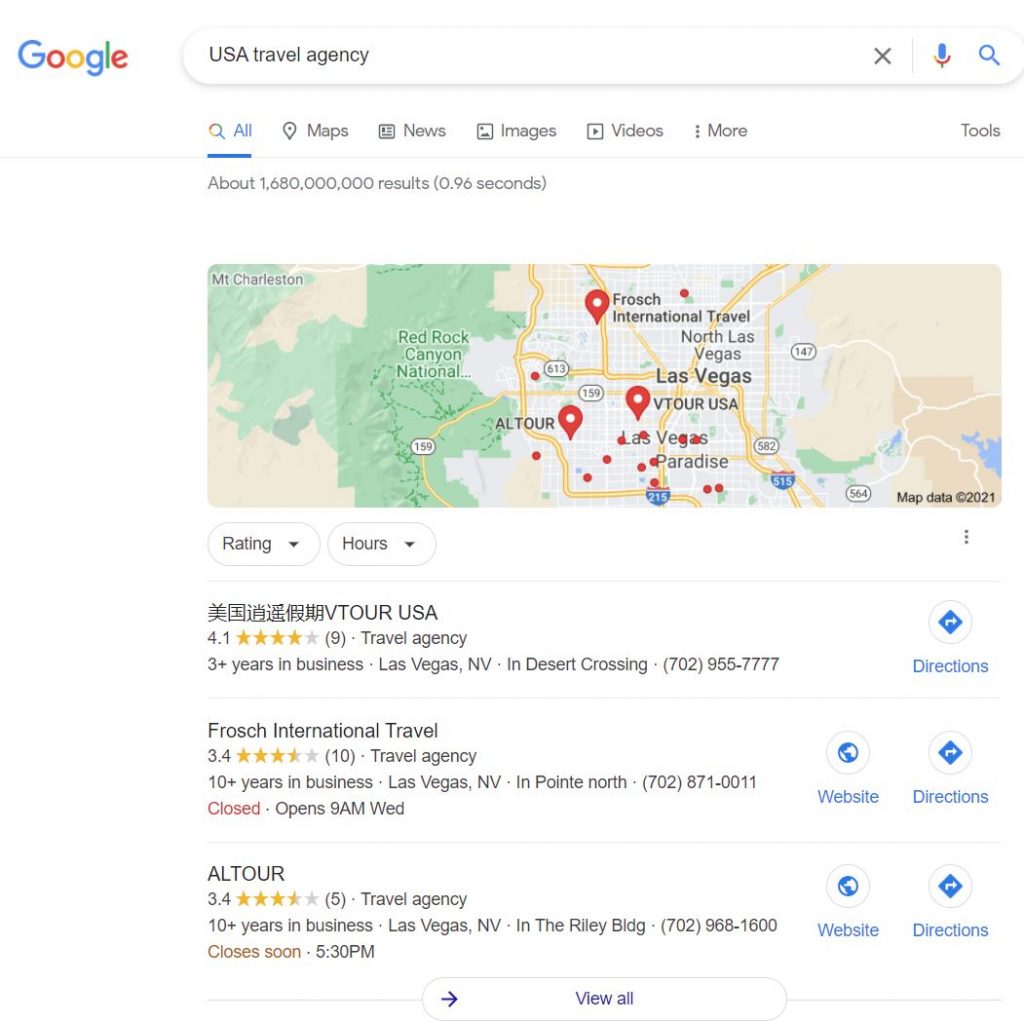 Local Organic — local organic output.
Google Local Pack — Google maps with organizations.
Local Knowledge Graph — blocks with brief object information. This is a important for travel agencies that have a real offline office. Google will take information from "Google My Business" if the GMB profile is full.
Due to the local Google search engine characteristics, it is achievable to take a position within a year and gradually build organic regional traffic up. The sooner you start SEO work on your site, the better: this SEO promotion success principle is unchangeable.
Just ten years ago building Private Blog Networks (PBNs) was not a hitch...
Continue reading
A high real estate environment competitiveness rate in the U.S. or...
Continue reading
Travel agency business has desperately suffered due to the COVID-19 pandemic....
Continue reading