Case: SEO promotion of educational website in Google.
Beginning of SEO promotion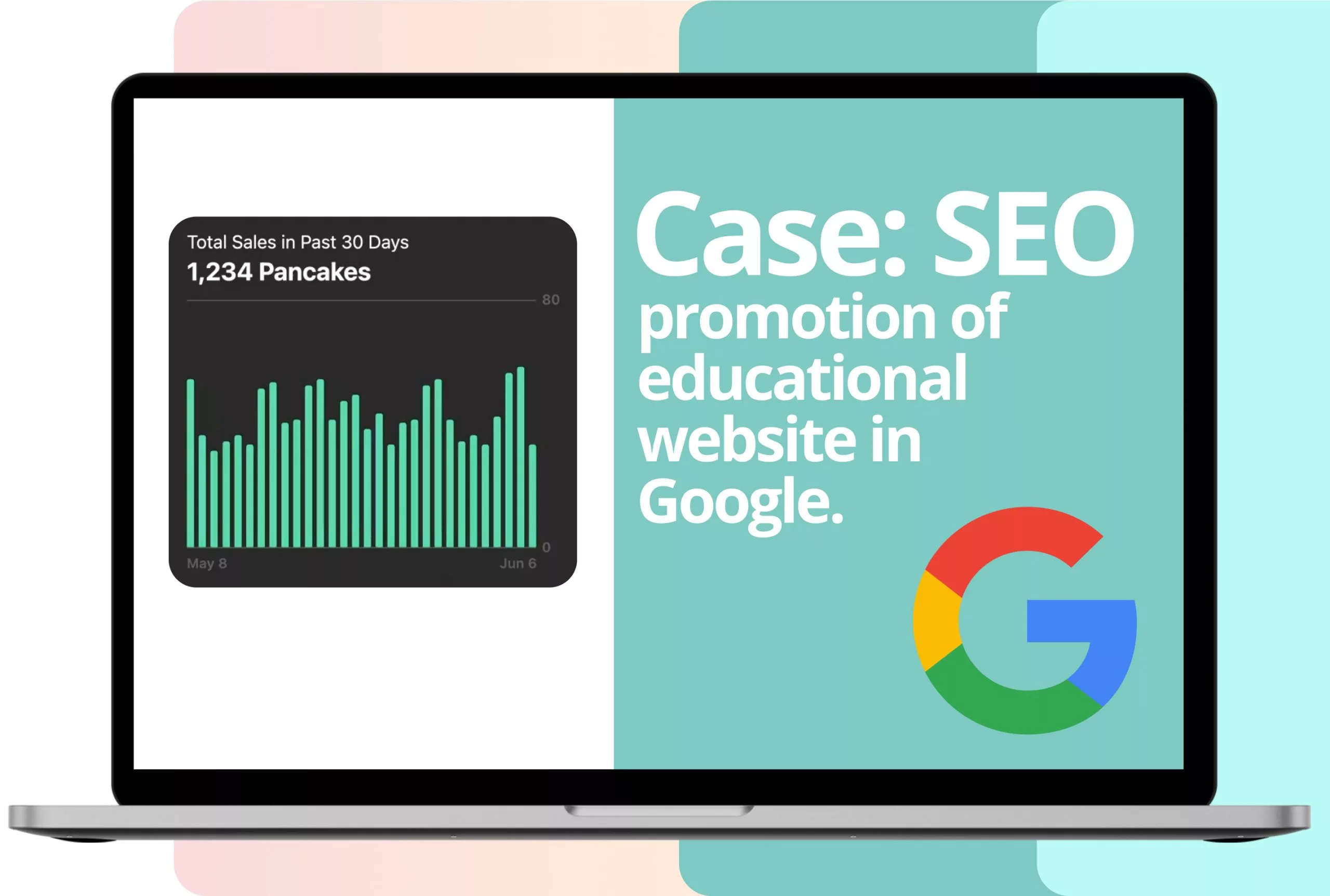 Region: USA and worldwide, SEO-oriented for Google.
Website development and promotion started in May 2020.
Project language: English
Website type: informational educational portal.
CMS WordPress + Woocommerce
The team working on the project consisted of:
Project manager, team leader
SEO specialist
SEO assistant: link builder
WordPress CMS programmer
Several copywriters with relevant education
Content manager
Website traffic chart for ARGOPREP
Beginning of SEO promotion
When the client requested an audit and the development of a strategic plan for SEO promotion, the website already had experience and utilized the Accelerated Mobile Pages (AMP) technology, which helps to load pages quickly on Google.
Originally, the website had a blog with articles, but the site owner chose their topics at their own discretion instead of for SEO purposes. The product catalog was poorly structured.
The main goal of SEO promotion was to sell educational materials for school exams.
After conducting an SEO audit of the website, a plan of action was created and implemented.
This plan included a list of technical corrections and specifications for the programmer to address:
Fixing issues with WordPress JSON REST API page duplicates and duplications of date archives.
Eliminating problems with emoji styles and recent comments.
Addressing common RSS feed issues and Last Modified configuration.
It should be noted that for Google, the publication and modification dates of articles are important. Many websites change the publication dates to the new year in old articles. If the website has trust and well-optimized content, sometimes changing the date with some minimal changes not only helps to maintain positions and traffic, but also to increase them. Therefore, Last Modified should be set up correctly for informational sites.
SEO optimization plan:
Checking old articles on the site, since old pages have weight, and working on meta tags and content according to SEO requirements can attract additional traffic.
Planning new SEO content for informational articles on queries about the school program and information for teachers on conducting lessons.
Reorganizing the product catalog: creating categories and tags to cover commercial queries.
Adding useful services to the site, for example, in addition to an article about the multiplication table, also adding a 10-question test on the multiplication table (after completing the test, a link to the product catalog with materials on the multiplication table is provided). All of this should help generate sales even with informational content and if you want everything to be done for you, welcome to outsourcing with us!
The AMP technology is useful for promoting in Google, especially if you plan to get traffic from countries where mobile internet is slower. Since the website has a significant percentage of the audience from India and the Philippines, it was only necessary to properly optimize the AMP pages. This improved the situation when there were initially many pages on the site but relatively little traffic.
SEO content optimization
As it is known, Google favors good informational content when it is optimized correctly. The best content for Google is always one that better satisfies the reader's intent on a particular topic. Therefore, only after thorough examination of all competitor websites were content specifications developed for each article separately. As a result, there was a gradual increase in the number of requests in the TOP issuance.
It is important to understand that the articles were written by professional copywriters with appropriate education, as only such content has the potential for growth in Google. The reason is that Google can evaluate the content on the page as a whole and in blocks. Therefore, if the SEO specialist's specifications include the correct headlines and keywords, but the copywriter poorly reveals the topic of the subheading, it will be even harder to outpace competitors, even with external links.
The result of our work, specifically the level of content quality, can be assessed based on the fact that the main traffic of the site goes to informational articles and then converts into leads and customers.
Link building for Google
Since the website was not new, and some external links were already pointing to the domain, we started buying links for Google promotion simultaneously with technical optimization and content creation.
Link building was also done after analyzing competitors, meaning the number and DR of links for each topic would be different. For information websites in the education niche, we were able to select such donors.
Distribution of links by dofollow and nofollow types was also observed with consideration of competitors. In addition, more active link purchases were initially possible due to the website's experience prior to starting SEO promotion. Of course, crowd links, reviews, and other user-generated content (UGC) were also used.
Due to consistent growth of the link profile, the site's traffic increased as well. However, it is undeniable that the information content and site directory played a significant role in achieving such traffic growth.
Our work on the project ended in October 2022, but as seen in the graph, the site continues to grow in terms of traffic due to the acquired link power and site optimization.