Google Behavioral Factors
Hello everyone, a big and optimized SEO greeting to you all! Today, let's talk about a quite important aspect in the world of professional optimization – user behavioral factors, what they are, how to obtain them, and how these data can be applied in the context of SEO.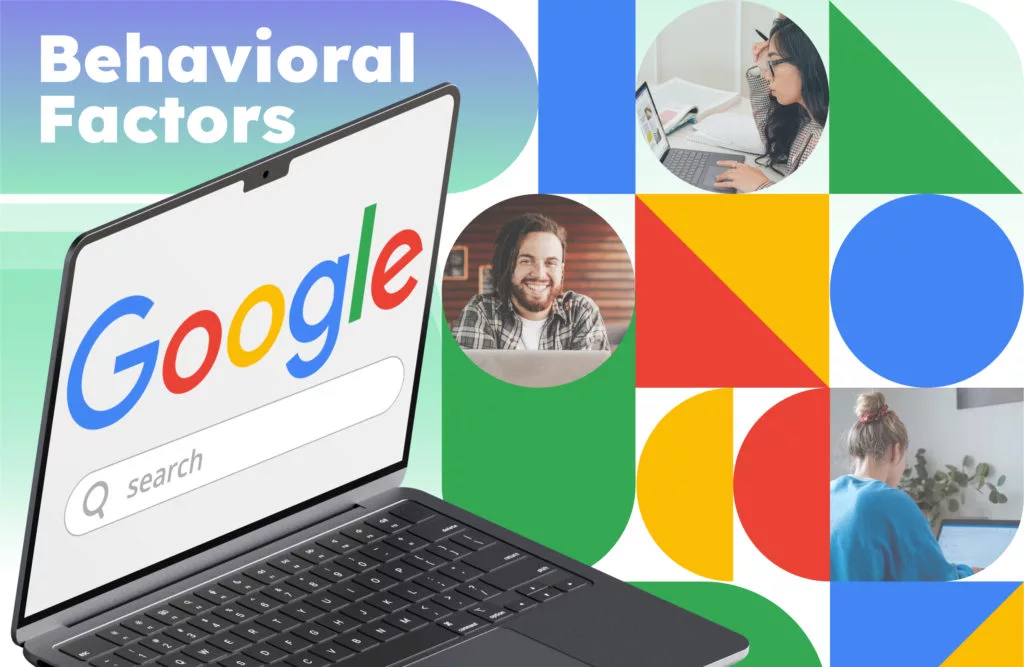 One of the triggers for writing this article was the legal dispute against Google regarding abuse of dominance on the internet. Google has always openly stated that the search engine does not always take into account behavioral factors such as clicks for ranking in SERP. Mueller has often been asked about the impact of clicks on ranking, to which he responded on his Twitter as follows:

And everything would be fine, but recently Eric Leman, a former Google employee, said the following phrase.
"Almost everyone knows that we use clicks for ranking. This raises the question:
"Why is Google trying to hide this if everyone knows?"
You can read the full interview with Leman at the link provided by our colleagues at Search Engine Journal, but let's move on to the main topic of our article – the influence of behavioral factors on ranking in Google's search results (SERP).
Behavioral factors are…
First, let's understand what behavioral factors are and how you can track them using web analytics services.
Behavioral factors are all the actions that users take from the moment they search for a website using a specific keyword to the end of their visit on the site.

These factors include:
●Where, when, and how users click in the search engine.
●How much and how users interact (scroll) with the website.
●When users close the page and leave the site.
By working with this data, you can track issues that may be turning your users away.
Now let's smoothly transition to behavioral factors and search engines.
Types of behavioral factors
Behavioral factors can be divided into two categories:
1. External factors – these are the actions that users take in the search engine results page (SERP). This data includes information about where the user came from, what queries they used, how long they searched for the information they needed, and so on.
In the article about traffic forecasting, we mentioned a parameter called CTR in SERP. This is the ratio of user clicks to the number of times your website is displayed in the search engine results.
Other external behavioral factors include:
Switching search engines (for example, when a user does not find the information they need and switches from Google to Bing);
●Switching search engines (for example, when a user does not find the information they need and switches from Google to Bing);
●Which click becomes the final one for the user, signaling to algorithms that this particular result is high-quality and relevant to the user's queries;
●Average number of website visits per search query;
●Average time until a user clicks on the desired website.
These are the main external factors of user behavior that Google takes into account.
Now let's consider internal behavioral factors. These are the actions that users take on your website, which search engine algorithms gather to rank in SERP.
These include:
●The number of users who visited your website (in web analytics services, this parameter is called website traffic);
●User session duration – the amount of time a user spends on your website;
●User session depth and page scroll – the first parameter indicates the average number of pages a user visits during one session, while the second parameter reflects the depth of viewing a particular page;
●Bounce rate – the rate at which users leave your website from the first page.
In addition to internal factors,conversion can also be considered as a indicator.
Here is an important document from Google that we highly recommend you to familiarize yourself with. In fact, Google has patented user behavior factors to use in its algorithms.
The second important point is the constant monitoring of these indicators.
To track external behavioral factors, use the Google Search Console service. And for monitoring internal factors, use Google Analytics 4 to receive data on user actions on your website. For example, to see the average CTR of your site in search results, simply go to the Search Results section in the Performance category.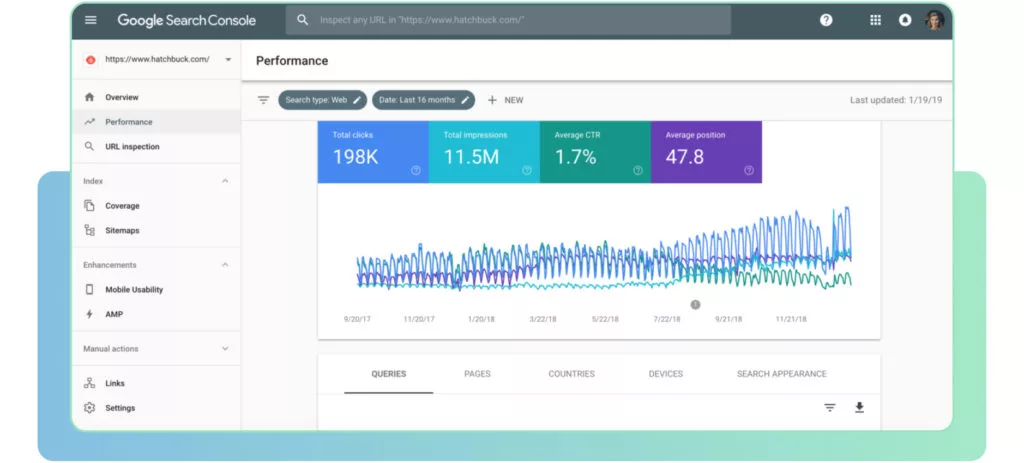 In the same section, by selecting the Pages option, you will get CTR statistics for individual pages. As for Google Analytics, in one of our articles, we have already written about how to connect and set up GA4 for your WordPress website. In general, the setup process is similar for many web platforms, so we recommend taking a look at it.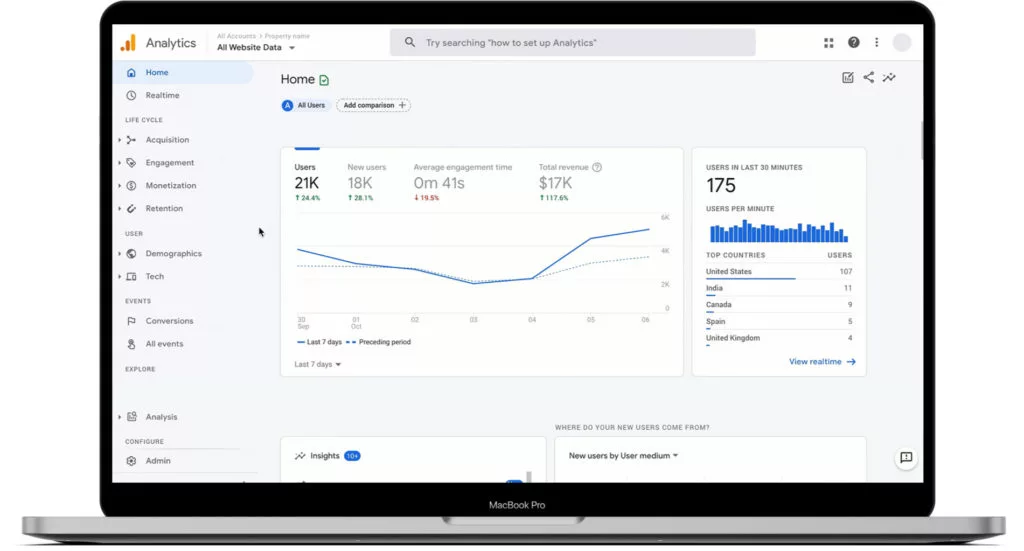 Search Intent
An important aspect for understanding behavioral factors is search intent.
Essentially, intent is the subtext or intention that a user includes in their search query.
The intent of key questions is incredibly important in developing SEO strategies and semantic cores. While intent is not a type of behavioral factor, it is closely related to them.

There are four types of user intent:
1. Informational: The user is looking for specific information or an answer to a question. They are often searching for educational materials or informational articles. For example, if someone searches for "The best places in Amsterdam," their intent is informational.
2. Navigational: The user is looking for a specific website, resource, or page. For example, if a user searches for "IMAX website," their intent is navigational.
3. Transactional: The user wants to buy a specific product or service. For example, if a user searches for "buy iPhone 15 Pro Max Titan," their intent is transactional.
4. Commercial: The user is in the research stage for a desired product or service, comparing various services and/or offers. For example, if their query is "best tablet for drawing," their intent is commercial.
Being able to work with the intent of search queries is very important. After all, search engine algorithms are designed to make search rankings as relevant as possible.
Just like in Tinder, there should be a complete match between two sides, in our case between the key query with a specific intent and the content you want to display for that query.
One of the simple ways to understand what search intent a keyword implies is to use the Semrush service. You can use this specific function even in the free mode, but with limitations. Open the Keyword Magic Tool and enter the desired key query, in our case let's take "best tablet".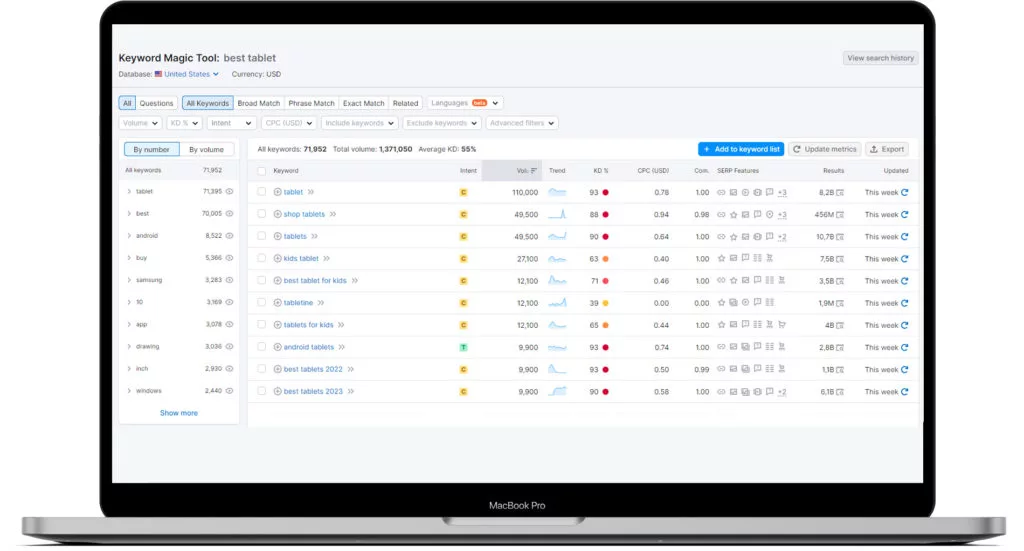 Here is the intent for the keywords in the second column after the keywords themselves. So, when collecting semantics, don't forget to check the intent and categorize the keys.
How clicks affect ranking in Google
Now let's get to the most interesting question of this article –
"How do clicks affect search rankings in Google?"
First, let's delve into the theory and interesting facts. For example, colleagues from the Backlinko team, in their study of organic CTR, analyzed 4 million search queries and the rankings for them to determine its impact on ranking in Google.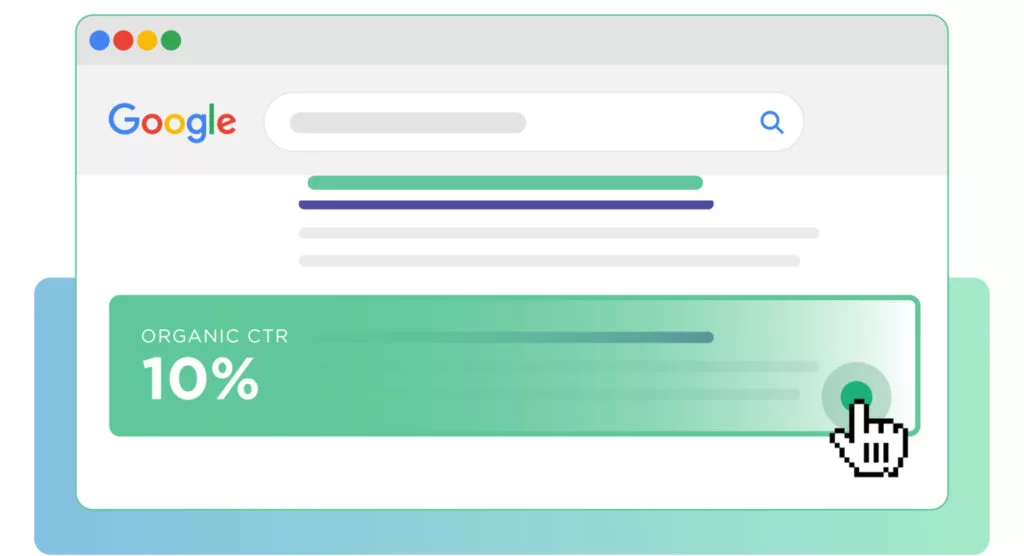 And here is a compilation of interesting facts they discovered:
1. The average organic CTR for the first position in Google is 27.6%.
2. The probability of clicking on the first position in organic search results is 10 times higher than on the 10th position.
3. The average CTR for the 8th and 10th positions in the search results is almost the same.
4. On average, moving up one position in the SERP increases CTR by 2.8%. However, this depends on which position your website is moving from. Moving from the third to the second position usually results in a significant increase in CTR. However, moving from the tenth to the ninth position does not show a statistically significant difference.
5. Titles containing questions have the same CTR as titles that do not contain questions.
6. Longer keywords typically have a higher CTR: keywords with 10-15 words receive 1.76 times more clicks than single word keywords.
7. URLs containing terms similar to the keyword have a 45% higher click-through rate compared to URLs that do not contain the keyword.
As for the actual confirmation of the influence of clicks on search rankings, it is a little more complicated, but there are several substantial pieces of evidence that clicks do matter. One case is a presentation by Google employee
Paul Haahr on "How Google Works: A Google Ranking Engineer's Story." Yes, this presentation is quite old, but still relevant.
If you haven't seen it yet, we recommend checking it out.
"SMX West 2016 – How Google Works: A Google Ranking Engineer's Story"
From the presentation, it becomes clear that Google uses CTR, but not for direct ranking adjustments. Instead, they are used indirectly in controlled situations
to check the quality of SERP.
Controlled situations imply the following – Google takes a part of the search engine results, tests algorithm changes, and uses CTR as an indicator of changes.
If CTR increases, great, if it decreases, something went wrong. This is precisely confirmed by a slide from the Haar presentation.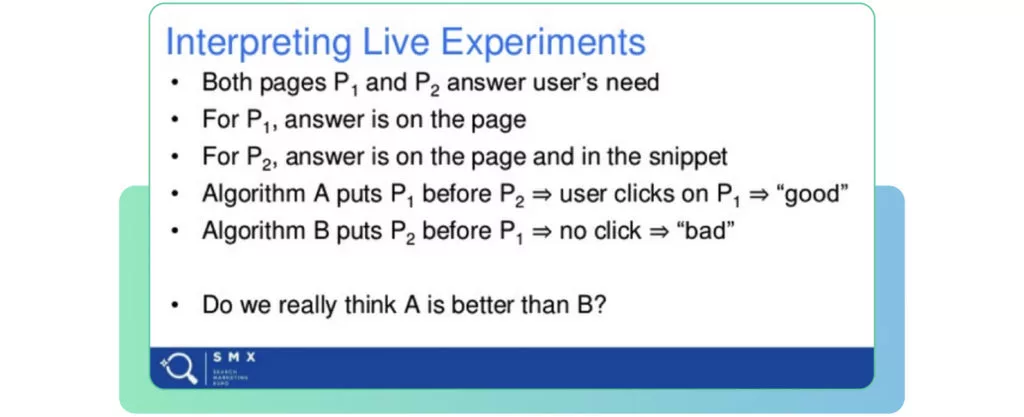 Our colleague Rand Fishkin conducted another interesting experiment.
In April 2014, he published a post on his blog that ranked 7th in the search results.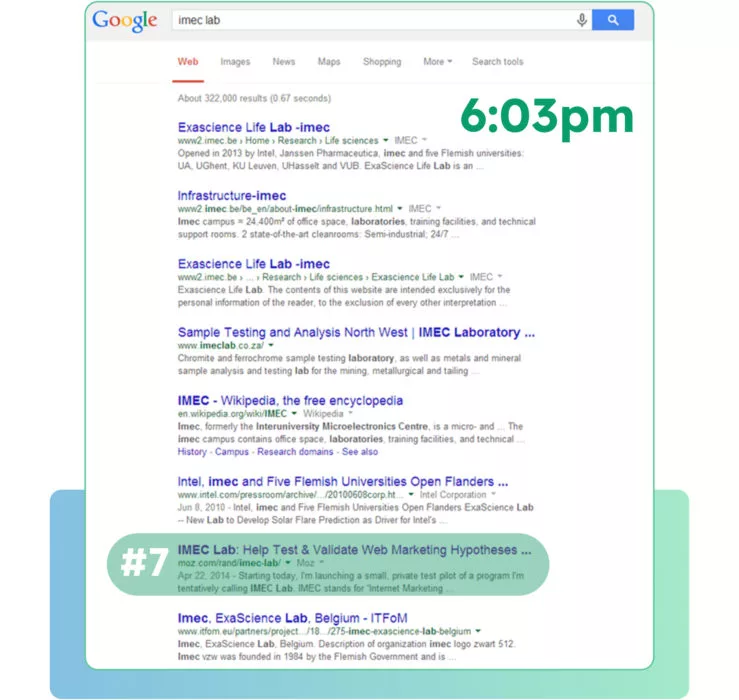 Then he asked his Twitter followers to promote the post, to test a hypothesis.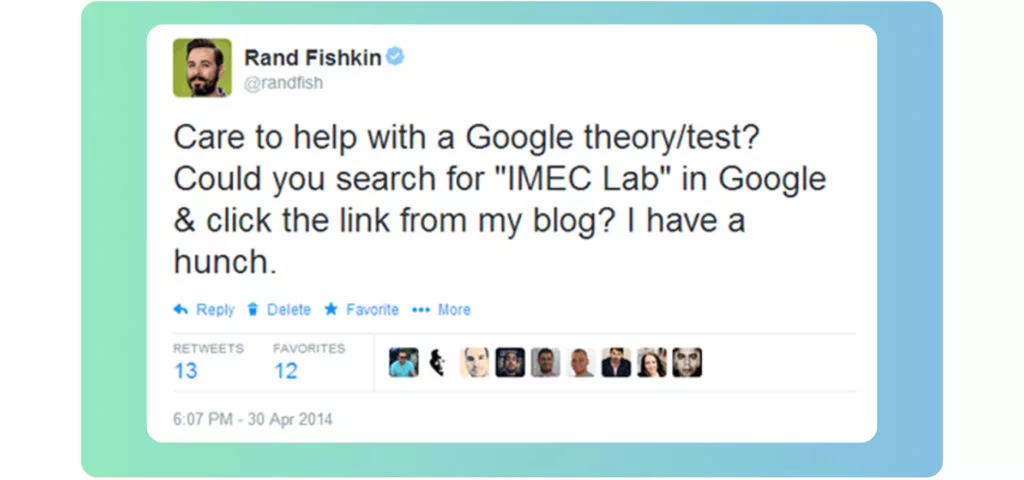 Do you think it worked for him in the end?
The post received over 200 visits thanks to the help of people who saw the post.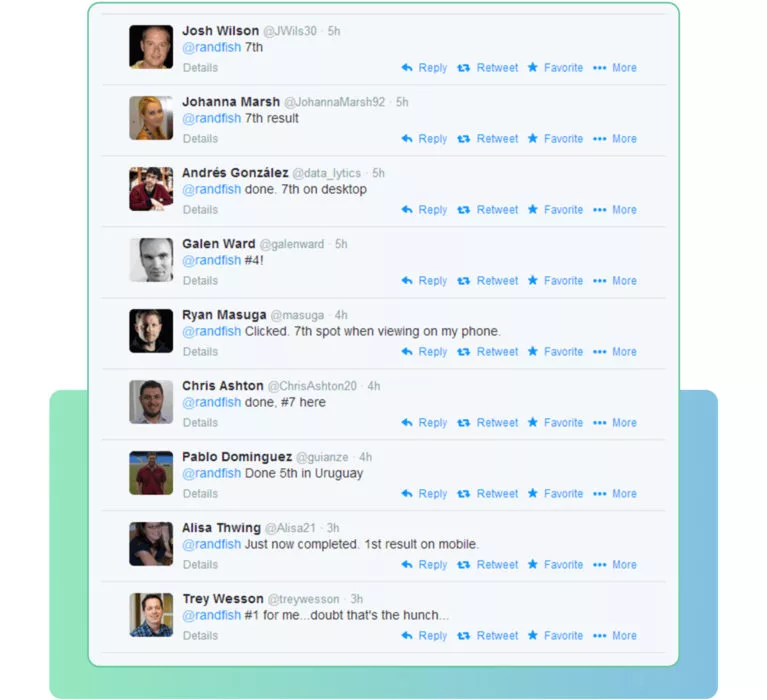 And here's the statistics:

And here's the search results on the following day.
The blog post is already in the first position.
Summarizing this experiment, one can conclude that clicks do influence non-personalized search results. It remains to be concluded that behavioral factors, including clicks, influence search result rankings. Yes, it may not work completely predictably, but it still works.
In the next article, we will continue the topic of behavioral factors and talk about their manipulation and the need for it in SEO promotion.
Dear friends, thank you for reading the article to the end. We hope the article was interesting and, most importantly, useful! We would appreciate it if you could write your opinion in the comments.