ECOSIA Review: Is it Suitable for SEO?
Hello and welcome Dear friend!
Inthis article, we will talk about the lesser-known but equally interesting search engine, ECOSIA. We will discuss all the features and, most importantly, answer the question of whether optimizing your website for this search engine is worthwhile.
ECOSIA is a European search engine originating from Germany with a social and environmentally-friendly focus. The company donates 80% of its advertising revenue to tree-planting projects worldwide.
The search engine's homepage is not as familiar as its elder siblings, Google, Bing, and Yahoo.
The search box is moved to the upper left corner, making it difficult to locate at first glance. Additionally, there is a rather persistent request to install an extension, which is essentially a regular search widget.
In the top right corner, we are greeted with three small buttons:
Tree counter — according to the company's statement, this is the number of trees you "planted" using the search engine;
News button — a normal news feed, where latest project news is published;
Menu consisting of 6 items:
a.Privacy — the project's privacy policy, all as usual.
b. Gift trees — Tree shop, you buy a tree that will be planted during the next planting campaign, in return receiving a certificate
c. Blog — Project blog
d. Careers — Project job openings
e. Help — A section of help about all questions related not only to the search engine itself but also to third-party social projects of the company.
f. Settings — settings, we will talk about them a little later.
**********
A little secret of Ecosia
In the settings section, we see the following items, but we are interested in only one.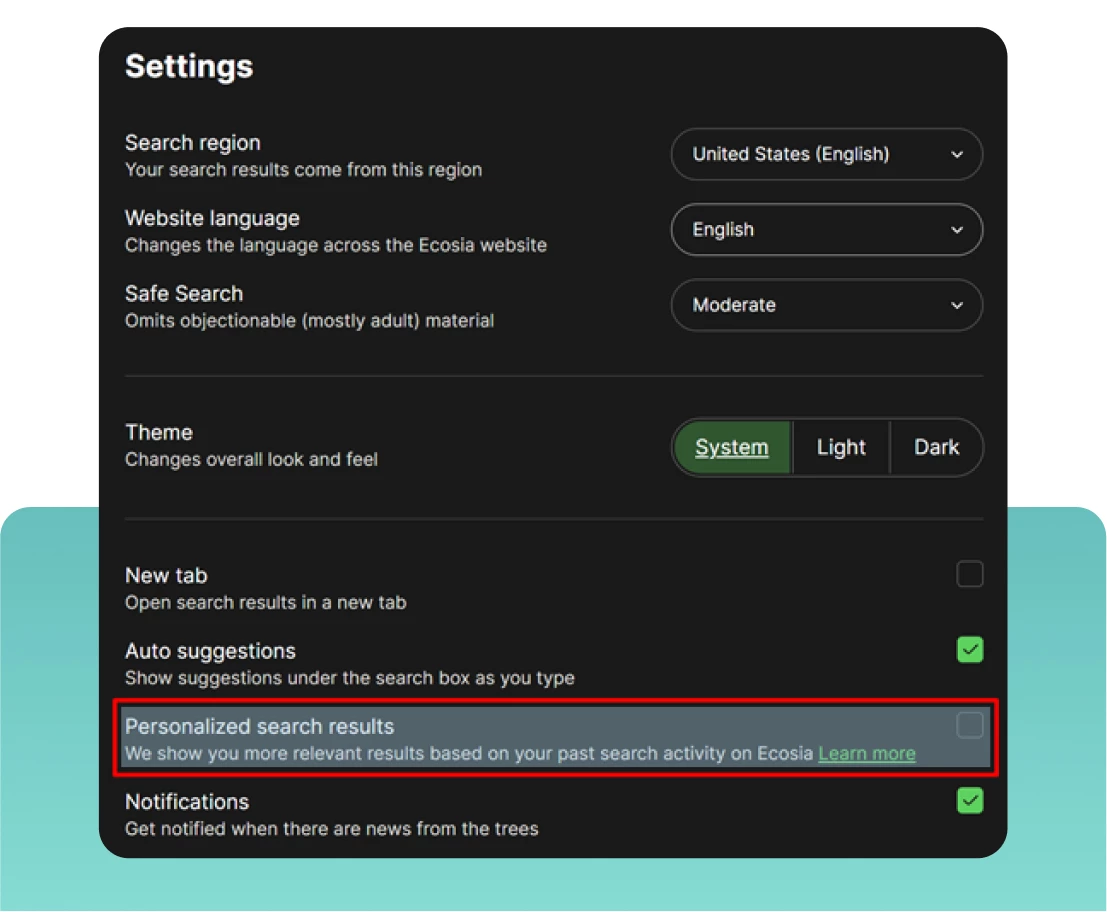 The secret of search algorithms is closer than you think. Click "Learn More" andddd…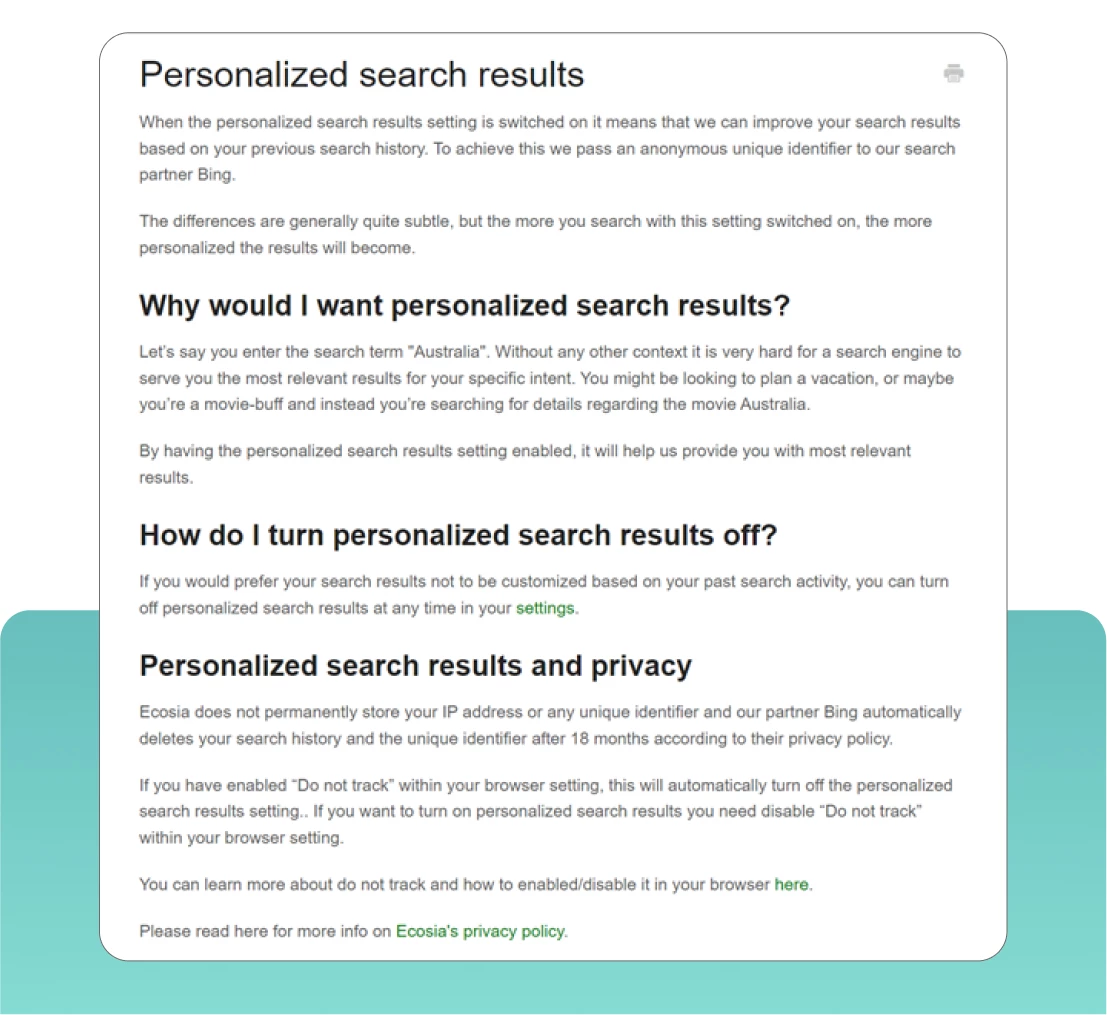 ECOSIA uses Microsoft's Bing search engine and allows users to use personalized search results in their search engine. You can manually turn off this tracking. As far as we know, its automatic activation depends on the region being tracked by the search engine.
**********
What can the "green" search engine do?
It is important to understand that using Ecosia to attract additional traffic is possible and even necessary. Its audience is quite specific and, yes, it is not available in all regions. We will discuss them below when we consider the target audience of the project. However, if you have a social project or a company that targets a "green" audience, it is your ideal source of traffic, albeit not very numerous, but very warm. And If you want everything to be done for you, welcome to outsourcing with us!
Search engine functionality
Considering that the search engine is quite young, there is no point in expecting a huge range of functions. The search engine can accomplish basic tasks such as a built-in calculator, currency and unit converter, flight search, time zones, translator, and weather.
We are most interested in the points that can affect a website's search results. Potentially, such tools may include Ecosia Maps and Points of Interest.
**********
Ecosia Maps
As for the GIS system, it is still in beta testing and uses open maps from OpenStreetMap.
We open the map in more detail and see that among the tools there is a transition to Google Maps, but unfortunately there is no influence on SERP due to the absence of an ecosystem within the search engine.
Interesting Places is a part of Tripadvisor integrated into the Ecosia search results. It should be regarded as a free method of ranking high in search results if you are among the top in your category on Tripadvisor.
Important: If you plan to include this promotion method in your strategy, it is worth noting that Ecosia pays a lot of attention to plant-based food and organizations that promote conscious consumption in the "Cafes and Restaurants" category.
**********
Green features of the search engine
In addition to additional search capabilities, the Ecosia search engine has its own markers for companies. Among them are:
Green leaf icon;
Fossil fuel icon;
Climate impact rating;
Country's impact on the environment.
Green leaf
The data is updated every two years, so it is difficult to call this method fast, but in the long run it has a place to be.
**********
Fossil fuel mining
There is also a flip side to the coin — the fossil fuel mining icon. Most likely, this mark is unlikely to threaten you. It is attached to large industrial companies that are engaged in the extraction and transportation of so-called "dirty" energy, namely coal.
Additional features
There are two more green features that you cannot influence — the emissions rating and the climate impact rating of a country. Apart from being studied in conjunction with the Berlin Institute, no further information is available.
Here's how it all looks:
Emissions and company impact rating.
And here's the ranking of countries.
Let's talk about statistics
Now for the most interesting part. Let's look at who uses the search engine, positions in specific regions, and the target audience. Despite its relatively small popularity worldwide, Ecosia has managed to capture 1% of the search market in Germany and France. Is that a lot? Of course not. But for small local businesses whose audience is actively interested in nature conservation and ecology, optimization for a "green" search engine can be an excellent addition to the SEO strategy.
As for the positions, the picture is as follows. ECOSIA is in the top 4 search engines in Germany, which is not surprising since the project is based in Berlin.
Next, we see good engagement and 160 million visits in May 2023. All data except for the number of visits are practically identical to bing.com, which is ranked third among search engines in Germany.
If we return to the geographical data, based on Similar Web data, the visit data by regions are as follows:
For a small search engine without its own search algorithms and a large ecosystem of services, the results are quite good. Now let's talk about the project's target audience.
Gender division is almost equal: 48.53% — men, 51.47% — women. The main age categories are 25–34 and 18–24, which is generally understandable. The younger generation in Europe is currently focused on environmental protection and movements to preserve ecology.
The interests of the audience are not so straightforward.
First place — computer technology and electronics,
Second place — 18+ (Germany, such Germany),
Third place — video games,
Fourth — programming,
Fifth — news and media.
From the interesting point, it can be noted that there is practically no difference between mobile and desktop traffic in Ecosia.
And another equally important point is that the incoming traffic is direct in most cases, which indicates a stable project audience that uses bookmarks and a search extension.
If we talk about social networks, then more than half of the traffic comes from Youtube.
Advertising on Ecosia
Although we are mostly interested in SEO optimization, it would be strange not to mention that there is paid advertising on Ecosia. Yes, it's not their own, but it still exists. To place ads in the search engine, the Microsoft Advertising Network is used.
The funniest thing about this whole situation is that it is currently impossible to advertise only on Ecosia. The search engine's technical support has created a questionnaire for those who want to advertise only on Ecosia, but there have been no announcements yet.
Placing a website on Ecosia
Let's go back to the fact that Ecosia uses the Bing engine. That is why there is simply no separate placement on Ecosia. Optimization and website placement occur directly under Bing through the Bing Webmaster Tool.
We are sure that you are familiar with the Bing Webmaster Tool and the actions that need to be taken to index your website and appear in search results.
If you have any questions, feel free to ask in the comments, and we will provide a breakdown of the tool and discuss the technical nuances of optimization for Bing and other search engines that use this engine.
In summary, it can be said with 100% certainty that Ecosia has the right to be included in a long-term promotion strategy, at least due to these points:
It is one of the top 5 search engines in Germany and France;
More than 20 million active users monthly;
A young target audience aged 18 to 35 who cares about ecology;
The search engine will definitely continue to develop, which means that its own ecosystem will grow around it, perhaps small, but still its own.
Therefore, if your project is related to ecology or your company actively conducts campaigns to support environmental protection, you can definitely find your European target audience.
**********
Dear friends, thank you for reading! I hope it was interesting and most importantly, useful for you!